On May 27, 2023, a group of collectors, enthusiasts, and trade gathered in Vancouver for a truly historic event. For the first time since Robert Parker's own iconic tasting in 1985, a comprehensive retrospective of 1982 Bordeaux was curated to raise funds for an excellent cause and once in a lifetime experience. Iron Gate attended the event not only to support the cause but also to provide our clients who have interest or are currently cellaring the 1982 vintage with intelligence on how they are holding up.
The impetus behind this gathering was our host, James Killam, who offered two bottles each of 45 different 1982 Bordeaux from his personal collection in support of ground-breaking cancer research. Indeed, all the proceeds from the event went to Dr. Yuzhuo Wang's labs at B.C. Cancer Research and the Vancouver Prostate Centre. Killam met Dr. Wang in 2011 during the treatment of his wife and soon after began fundraising for Dr. Wang.
The group gathered at The Sutton Place Hotel, a fixture in downtown Vancouver that is host to award-winning Boulevard Kitchen & Oyster Bar and Sutton Place Wine Merchant. There were 27 attendees in total who joined from all over the world. Alongside Warren and myself, notable members of the trade included independent wine writer, educator, and judge Michaela Morris; educator, consultant, and journalist Michelle Bouffard; Decanter Premium and Bordeaux Editor Georgie Hindle; and Tribeca Wine Merchant Director of Sales Lauren McPhate.
Provenance
Killam was kind enough to provide me with the background of his collection of 1982 Bordeaux ahead of the tasting. He explained that his son was conceived in 1982 and born in 1983, so when the first reviews of the vintages were published, he decided to buy, with limited resources, as many 1982 as he possibly could. However, his son did not develop the same passion in wine, which he jokingly admits to having worked out well for him.
Until recently, all the wine in his cellar was purchased on release. Either from provincial liquor boards or a trusted retailer in Rochester, NY (Century Discount Liquor). The First Growths he remembers buying in case lots for USD $40-$60 per bottle, and many others between $15-$20. When arriving in Vancouver they were stored in the basement of one of two houses under consistent temperature and humidity.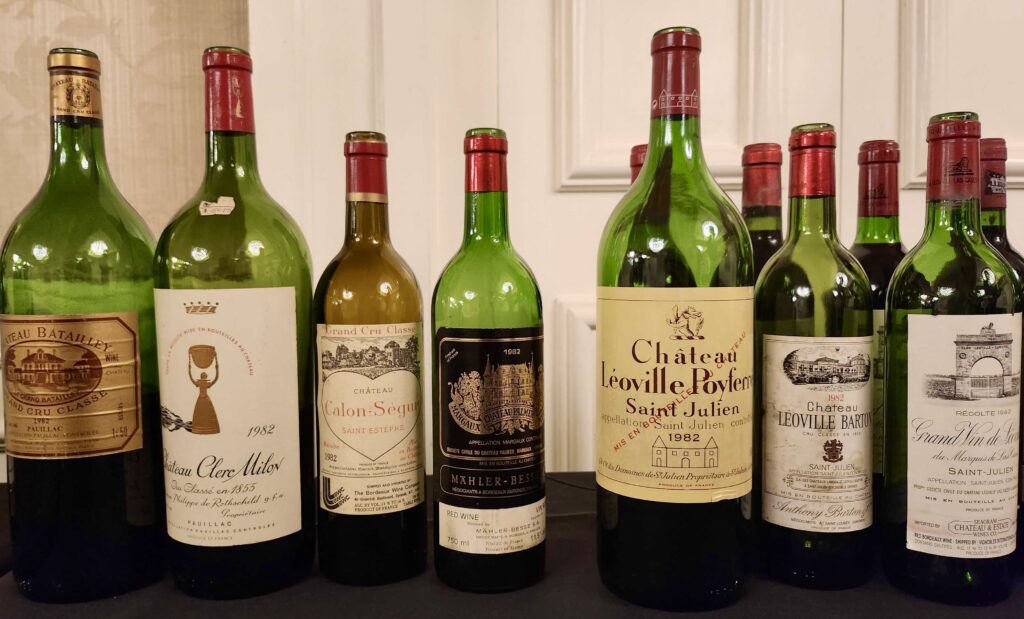 Killam hosted a smaller, 12-wine horizontal of 1982 wines in 2014. This included magnums of Petrus and Le Pin in support of Dr. Wang's research and was a roaring success. So much so that they decided to host a larger tasting in 2022 for the vintage's 40th anniversary. For a number of reasons (like a global pandemic), this was not feasible and so was rescheduled. Both Michaela Morris and Michelle Bouffard were present for the 2014 tasting, and it must be noted that their commentary formed an insightful foundation for the evening's event. From 2014, Killam went to work sourcing 1982 Bordeaux, purchasing from auctions including Iron Gate, Acker, and Spectrum, with retail sources including Tribeca Wine Merchants, Acker, and a couple one offs from California.
Service
Upon our arrival at the Sutton Place Hotel, we were escorted upstairs into one of the hotel ball rooms. On the left side of the room, a table fitted with white tablecloth was set up in a large "U" formation and was spotted with placeholders for the attendees. On the right side, similarly dressed tables lined the room's perimeter and were filled with the wines for the evening.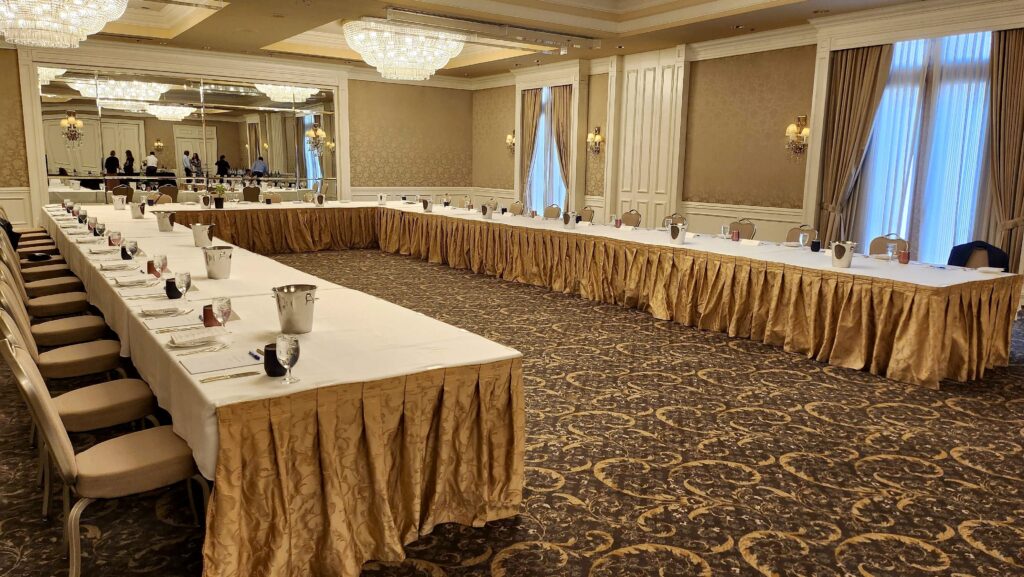 The wine service was led by Boulevard's Executive General Manager JP Potters, with the dinner thoughtfully crafted by Executive Chef Roger Ma. Assisting with wine service were a number of Vancouver's brightest wine professionals, including Lisa Haley (Sutton Place Wine Merchant), Bryant Mao (Pearl of Burgundy), and Peter Rae (Olivier Brands). The service was thoughtful and was executed flawlessly.
The wines were opened on average one hour before serving and were decanted. In speaking to JP Potters, he explained that the process rolled so that wines from the first flight were opened first with subsequent flights being opened an hour before they were to be tasted. This kept the tasting experience as consistent as possible.
Vintage and Tasting Overview of 1982 Bordeaux
To glean the most from this tasting, a bit of reflection was in order. While it is not uncommon to taste Bordeaux from recent vintages (with an occasional wine from the 70's or 80's thrown in), the process of tasting many dozens of 1982 Bordeaux is another thing entirely. 1982 was a time where wines regularly (and were lucky to) achieve alcohol levels of 12.5% abv. Compared to the regularly opulent, lavish, and alcoholic expressions of the last 10 years, the firm, restrained expressions from 1982 could not be more different.
It's important to note that winegrowing has also shifted over the last 40 years. Viticultural and winery techniques have become much more precise in the wake of modern winemaking and technology has replaced a lot of what was done manually in 1982 (sorting, for example). However, 1982 is still recognized as one of the vintages of the century and we were about to discover why.
1982
The vintage, at the time, was considered the most consistent since 1961. There was a warm and sunny spring which allowed for good and even flowering. The month of July was hot and dry which was tempered by a cooler August. The three weeks prior to harvest brought another heat wave which concluded the growing season on a high note. The official harvest began on September 13, the exact same date as in 1945.
Consistent flowering and ripening conditions set the stage for one of Bordeaux's most prolific vintages in terms of volume and value. The yields from 1982 nearly doubled that of 1959 and were higher than 1985, 1986, 1989, and 1990. To quote Wine Cellar Insider, the resulting wines possessed "rich, ripe fruit, opulent texture, and purity that hadn't been seen for decades". Ironically, at the time 1982 was considered a "Californian vintage". Oh, how things have changed.
The Cost/Pricing
Prices achieved for Cru Classe wines and how they have changed was also a point of consideration. James mentioned that he purchased many of his wines in the US in the range of USD $15-$60 on release. When looking at international reports, Wine Spectator reported that when 1982 futures were sold in the US, it was six Francs to the US dollar. Chateau Lafite was released at USD $41, Le Pin at $23, and Lynch Bages at $13.
The current secondary retail values of these wines look starkly different. 1982 Chateau Lafite retails at an average of USD $4,165, Le Pin at $10,195, and Lynch Bages at $430. Of course, the release prices of recent vintages have also changed, with 2022 Lafite (en primeur) priced at €580 (~USD $645) per bottle, 2022 Lynch Bages (en primeur) at €105.60 (~USD $117), and 2020 Le Pin at €1,700 (~USD $1,890) per bottle.
At auction, we continue to see strong returns for Bordeaux's top wines (particularly with First Growths). Interestingly this comes at a time when the prices realized for Burgundy's most sought-after cuvees are softening. Whether or not the trend continues, it is still a sign that the Grand Cru Classé are still solid vehicles for investment and enjoyment.
The Wines
The wines were split among five flights, beginning with unclassified wines, Cru Bourgeois, and lesser Cru Classés, and crescendoing towards First Growths or equivalents from the Right and Left Banks. Most recent critic scores were collected ahead of time, primarily to reference which wines were already considered over the hill and which had the most potential for excellence.
As one might expect, there were a couple instances of bottle variation, cork taint, and Brettanomyces. Despite these minor issues, the overall condition of the wines were excellent, and we had James Killam to thank for his meticulous procurement and cellaring techniques.
For consistency, Robert Parker scores were used for reference as many of the Cru Classé were reviewed in 2022 during the vintage's 40-year anniversary. The compiled data served as an excellent resource, as the quality of many of the wines (in my opinion) fell in line with what recent tasting notes portrayed them to be. However, there were a few delightful surprises along the way which made the evening even more exhilarating. The excel file with critic scores can be accessed through this LINK.
Flight 1 (Warm Up):
1982 Chateau Giscours
1982 Chateau d'Angludet
1982 Chateau d'Issan
1982 Chateau Gloria
1982 Chateau Duhart-Milon (magnum)
1982 Chateau Grand Puy Ducasse
1982 Chateau Bon Pasteur (magnum)
1982 Chateau Magdelaine
1982 Chateau La Lagune
1982 Chateau Sociando-Mallet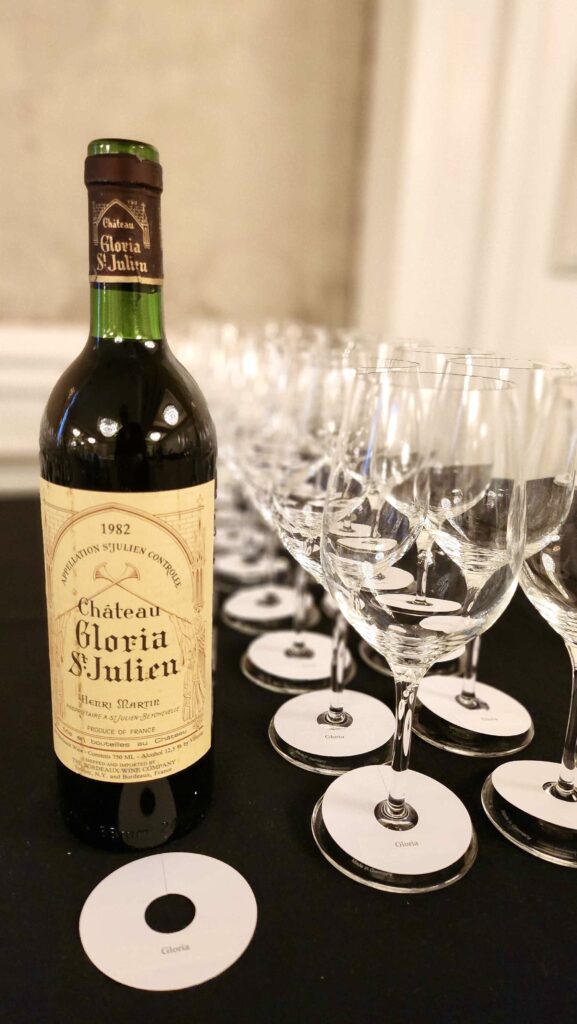 The "warm up" flight, as previously mentioned, consisted of 10 wines from the Left Bank, which were either unclassified (Gloria, Sociando Mallet), Cru Bourgeois (d'Angludet), and 3rd through 5th Growths. The small Right Bank contingent of Bon Pasteur (Pomerol) and Magdelaine (Saint Emilion), were assessed relative to their own appellations.
The clear standout wine from this flight was Chateau Gloria, with impressively high intensity notes of violets, blackberry and truffle, a filling mid palate, and silky, resolving tannins. Its freshness was intact and it was well balanced. Chateau Duhart Milon from magnum was also a pleasure with an abundance of youthful fruits, firm structure and long finish. Sociando Mallet possessed a very fragrant nose of cassis and pencil lead, subtle toastiness, and strident length. On the other end of the spectrum there were a few wines which were over the hill. Those included Chateau d'Issan and Chateau Bon Pasteur (magnum), the latter being among the biggest surprises as it had been rated 96 points in 2009.
Flight 2 (Classic):
1982 Chateau Gruaud-Larose (magnum)
1982 Chateau Branaire Ducru
1982 Chateau Beychevelle
1982 Chateau Rauzan-Segla (magnum)
1982 Chateau du Tertre
1982 Chateau Grand Puy Lacoste
1982 Chateau Batailley (magnum)
1982 Chateau Clerc Milon (magnum)
1982 Chateau Calon Segur
The second, "classic" flight was a fascinating one to taste through, particularly with so many of the wines being poured from magnum. Sadly, the Chateau du Tertre was completely corked with no way to taste around it. The Calon Segur appeared tired with a garnet-brown color and prominently tertiary nose (truffle, leaves, leather), however the palate showed some promise with both fresh and dried blackberries, capsicum, and cocoa. The top wine of the flight was the Chateau Grand Puy Lacoste. Generous blackberry and cassis fruits with notes of graphite, mint, and evolving truffle complexity. It was balanced with vibrant acidity and fine, firm tannins. Notes of vanilla and spice were beautifully interlaced. A close second was the Clerc Milon poured from magnum, retaining high amounts of acidity and fresh fruits. Chateau Rauzan Segla will also get an honourable mention for its elegance, it was a lovely expression of Margaux.
Flight 3 (Super Seconds):
1982 Chateau Palmer
1982 Chateau Leoville-Poyferre (magnum)
1982 Chateau Leoville Barton
1982 Chateau Leoville-Las Cases
1982 Chateau Ducru Beaucaillou
1982 Chateau Montrose
1982 Chateau Cos d'Estournel
1982 Chateau Pichon Lalande
1982 Chateau Lynch Bages
1982 Chateau Pichon Baron
Flight 3 featured many of Bordeaux's elite "Super Seconds". I'm happy to report that, as expected, there was an obvious qualitative shift towards wines of impressive pedigree and which expressed the terroir of their appellations. While being the only third growth in the flight, Chateau Palmer was not out of place among its peers. It was intensely fragrant, showing harmonious balance between cherry and soubois flavours, moderate chalky tannins, and delicate acidity, with a lingering finish. Similarly, Chateau Lynch Bages (fifth growth status), was quite rightfully placed in the tasting order. It's high concentration of fruit, long length, and vibrant acidity punching far above its weight class. Unfortunately, there were signs of cork taint on both Leoville Poyferre and Cos d'Estournel, a real shame as both wines typically cellar very well.
The Pichons both showed very well, however there was agreement around the table that the purity of fruit and sophistication of the Pichon Lalande set it slightly apart from the savoury Pichon Baron. Chateau Leoville Barton and Chateau Montrose also showed wonderfully; however the real winners of this flight were Chateau Ducru Beaucaillou and Chateau Leoville Las Cases. Both wines were superb. Chateau Ducru Beaucaillou displayed real opulence with bountiful blackberry fruits and clove spice, refreshing acidity and moderate, silky tannins. Chateau Leoville Las Cases showed similar concentration but with more delicate florals, delineation of fruit and firm structure. The finish on both were remarkably long.
Flight 4 (Right Bank):
1982 Chateau d'Ausone
1982 Chateau Cheval Blanc
1982 Chateau Petrus
1982 Chateau Lafleur
1982 Chateau Figeac
1982 Chateau l'Eglise Clinet
1982 Chateau La Conseillante
1982 Chateau Certan de May
1982 Chateau La Fleur Petrus
Some of the most memorable wines of the evening showed up in flight 4. The plenitude and richness of Bordeaux's Right Bank was on full display and it was a joy to experience. Chateau Certan de May and Figeac seemed the most mature of the flight, both with thick garnet rims and dominant dried fruits on the palate. Depending on your preferences, it may be a good time drink these wines if you have any in your cellar. The same could be said for Chateau L'Eglise Clinet, however it has held on to more of its primary fruit character. Chateau La Conseillante and Chateau La Fleur Petrus were both incredible expressions of vintage Pomerol. Richly fruited with moderately high amounts of powdery, resolving tannins and remnants of lavish oak. Both displaying notes of crushed stone, truffle, vanilla, and cocoa.
Among the remaining wines it was Chateau Ausone and Cheval Blanc which ruled supreme. In my opinion, both are hitting their drinking peak and they were spectacular. In my research of these wines, they were both described as immensely powerful and backward from the get-go. Upon tasting them it was clear that any dumb phases they had entered over the years were over and they drank with incredible clarity. Highly intense aromatics of fresh red and black plums, and surprisingly primary aside from the fruit's seamless integration with the wine's structure. The Ausone displayed a very linear mineral drive with notes of liquorice and spice, while Cheval Blanc is more sumptuous in style with a distinct herbal character and cigar smoke complexity.
Chateau Lafleur was also extremely compelling and was a not very distant third to Ausone and Cheval Blanc. Like the latter, there was a marked herbal complexity from the presence of Cabernet Franc which lifted the seductive strawberry liqueur and dark cherry perfume. An engaging and long-lasting finish, certainly worthy of its perfect 100-point score. Chateau Petrus was a very good wine, however it didn't quite show the same excellence as others in the flight and certainly not when considering it's high price point.
Flight 5 (Left Bank):
1982 Chateau Lafite Rothschild
1982 Chateau Mouton Rothschild
1982 Chateau Latour
1982 Chateau Haut-Brion
1982 Chateau La Mission Haut Brion
1982 Chateau Margaux
Flight 5 was the flight which many of us were waiting for. A very rare occasion to taste the best of the Left Bank and Grand Cru Classe from one of the top vintages of the century.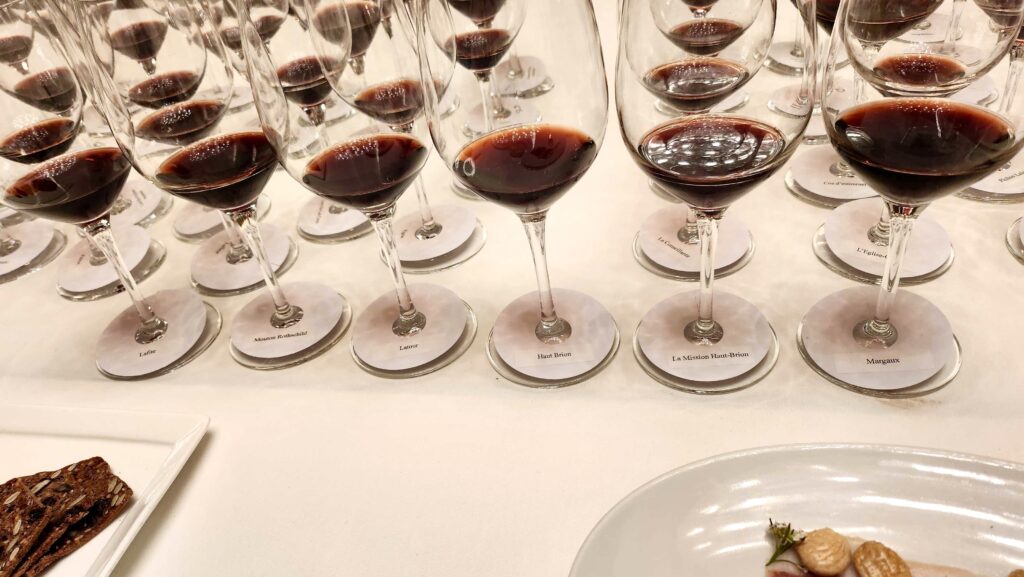 It was not my first time tasting the 1982 Chateau Haut Brion and for the second time it was overpowered by Brettanomyces. I don't believe that to be a fault for everyone but in my opinion it masked the expression of the fruit and left the palate feeling flat. In contrast, there were a number of 100-point wines in this flight including Chateau Mouton Rothschild, Chateau La Mission Haut Brion, and Chateau Latour. The quality of La Mission Haut Brion and Latour was irrefutable, despite the difference in styles. Chateau Latour was unyielding, savoury, and powerful, and of all the wines in flight 5, was the wine with the most potential for further cellaring. Chateau Mouton Rothschild was surprisingly muted, which in the end was chalked up to bottle variation (a real shame). La Mission Haut Brion was exceptional, and combined a firm tannic structure with ripe, expressive fruit and real elegance. Had the Mouton shown well, I imagine the style of La Mission would have fit somewhere between Latour and Mouton.
The top wines of this flight were Chateau Margaux and Lafite Rothschild. Similar to Chateau Ausone and Cheval Blanc of flight 4, these wines showed clarity and expression that the other wines in the flight did not possess. Chateau Lafite was very Burgundian in style and its aromas of cassis, graphite, and stones were finessed and pure. It was very intense yet ethereal, with a long, lingering finish. Chateau Margaux exceeded every expectation. Next to the delicate features of Lafite, it was intensely seductive with rich, heady aromatics of plum with a velvety, mouth-filling texture. Its opulence was balanced with vibrant acidity and ended in a long- lasting finish.
Finisher: 1982 Chateau Suduiraut
1982 was not the most successful year for Sauternes, but the Suduiraut tasted at the end of the evening was a pleasant and refreshing way to finish such a grand affair. Distinct pungent aromatics of botrytis paired with notes of crème brulee, lemon curd, and marmalade.
1982 Summary
There was so much to glean from the evening (a couple months on, I'm still digesting) but there were a few key themes which emerged in the post-tasting discussion. It was clear that the age of these wines allowed the typicity of each appellation shine through. With no baby fat left to get in the way, the wines purely represented the terroir of Left and Right Bank AC's, made all the better by tasting them side by side. What was also evident was the pedigree of the top Chateaux in 1982. The quality of First Growths and Right Bank equivalents, Super Seconds, and several other Chateaux spoke to the care and dedication of their winemaking teams at the time, and their skill in producing long-lived and brilliant claret. Finally, it was not beyond us to recognize just how special the 1982 vintage was. This is partly because in some cases this vintage is now past its prime. Although, in many cases (as we saw over the course of the evening) many wines still have potential for further appreciation.
Our sincere thanks again to James Killam for making this spectacular, once in a lifetime event possible. We encourage anyone looking to make charitable donations this year to consider Dr. Wang's cause. To donate please contact James Killam at gjk@killamcordell.com